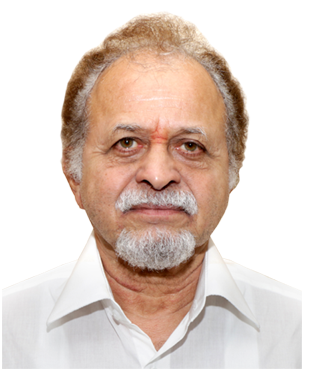 Acharya Prof. Dr. Yajneshwar S. Shastri

Vice Chancellor, SUBIS
Vice Chancellor of Sanchi University of Buddhist-Indic Studies is internationally known scholar of Indian Philosophy, Religion and Sanskrit. Dr. Shastri is former Director, University School of Psychology, Education and Philosophy, Gujarat University, Ahmedabad, India. Dr. Shastri holds Bachelor's, Master's and Doctoral Degrees from Bombay University. He also holds traditional Bachelor's (Shastri) and Master's (Acharya) degrees in Sanskrit language. He is nominated member as one of the Eminent Philosophers of India to Indian Council of Philosophical Research (MHRD, Govt. of India). He is Honorary Director of Som-Lalit International Centre of Thought and Nalanda International, India. He is President of World Peace Foundation, Gujarat, Vice President of International Social Philosophy Congress and Jt. Secretary of Indian Philosophical Congress.
He is honoured with "Darshana Visharada" by Shankaracharya of Swarnavalli Mahasamsthanam, Karnataka. He is also honoured with "Shrimanta Nanasaheb Peshwa Puraskar" Pune. Felicitation volume viz. 'World of Philosophy – A Harmony' has been brought out in his honour in 2011. In addition to these, he is honoured with 'Eminent Citizen of India', 'Ambassador of Peace' etc.
He has more than 16 books such as 'Foundations of Hinduism', 'Traverses on Less Trodden Path of Indian Philosophy and Religion', 'Mahayanasutralankara of Asanga – A Study in Vijnanavada Buddhism', 'Prasamaratiprakarana of Umaswati Vachaka (on Jainism) and 'Jainism from View Point of Vedantic Acharyas' etc. He is chief editor of several books and journals. He is the Editor of Ishavasyopanishad with 51 Sanskrit Commentaries in two parts, which is judged as the 'Best Book of the year' 2013. He is the editor of Sri Lalitatrishatibhashya of Adishankara, with English Translation by Dr. Sunanda Shastri. He has more than 135 research papers to his credit.
Dr. Shastri has been invited by Loyola Marymount University, Los Angeles, USA, as Visiting Professor to teach Indian Philosophy and Comparative Religions of India and Hinduism, Jainism and Buddhism under 'Noted International Scholar Project' for 8 times. Dr. Shastri has been also Visiting Professor at Cleveland State University, Ohio, USA, as Distinguished Indian Scholar, to teach Comparative Religions of India in 1994-95. He has also been invited to deliver several community lectures by LMU, CSU and University of California, USA. (1995, 1998, 2006, 2011, 2013)
He has been General President, Key-note speaker and Chairperson in several National and International Conferences. Dr. Shastri reads, writes and speaks in Sanskrit, English, Hindi, Kannada, Marathi and Gujarati languages. He is an Expert Member of Board of Philosophy and Ph.D. Referee in almost all well known Universities of India. He has guided 18 Ph.D. students and more than 85 M.Phil students successfully.